A boom lift, sometimes referred to as a cherry picker, can be a very useful piece of equipment on a variety of different job sites. Boom lifts are the ideal choice for applications where you need to lift workers to extended heights to get the job done. There are two different types of boom lifts: Articulating or Telescopic. Which type of boom lift you need depends on what you'll be using it for and what type of environment you will use it in. Choosing the right boom lift for your project will make all the difference in how efficient, safely, and profitable you complete the job. By knowing the difference between these two boom lifts, you will be able to make the right selection.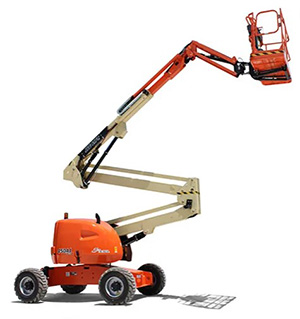 Articulating Boom Lift
An articulating boom lift is separated into multiple sections that bend at points called knuckles. Articulating booms lifts are sometimes referred to as knuckle booms. This articulating ability makes it easy for the platform to maneuver up, around, over, and under obstacles.
Telescopic Boom Lifts
A telescopic boom lift, commonly called a straight boom, has a boom that "telescopes" straight out. Telescopic boom lifts are used when crews need to access an area blocked by rough terrain or somewhere the lift itself can't get into. Them boom extends quickly, and the lift can be driven, in some positions, with the boom fully extended.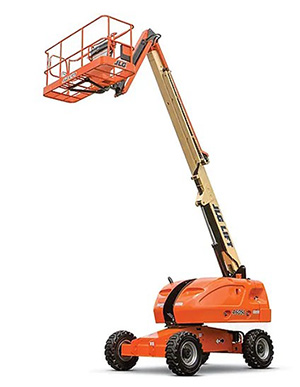 Which to Use?
When choosing between renting an articulating boom lift and renting a straight boom lift, you need to take into consideration what type of environment you will be working. In smaller, tighter spaces, an articulating boom lift may be a better choice as it will allow you to better maneuver around objects.
Straight boom lifts can usually reach higher heights than the articulating boom lift. Because of the design, where sections of the boom push away or towards each other using hydraulics, means that, overall, a telescoping lift will be more stable as the sections are reinforcing each other inside of the boom.
Want A Lift Rental's fleet includes both articulating boom lifts and straight boom lifts. Call us today to learn more about our articulating and straight boom lifts. Our knowledgeable staff can help you determine which lift is right for your job.